St George's is happy to welcome our new Community Minister, the Rev. Vinay Dumpala.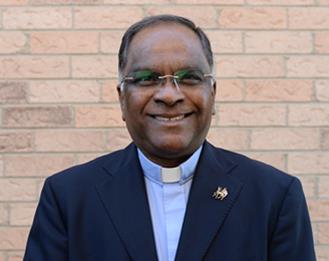 The Rev. Vinaya Sagar Dumpala Vinaya received his Bachelor's degree in Commerce, and a Bachelor and Master's degree in Mass Communication & Journalism from India before his completion of Master of Divinity (Honours) at Trinity College, University of Toronto. His professional career in Advertising, Public Relations, and Media Research spans over twenty-eight years in India, the Middle East, and Canada. He has represented significant global agencies in the capacity of Director and CEO.
Vinaya migrated to Canada in 2010 with wife Geetha and their two sons, Yohan and Aaron, both gifted musicians. They have been active members of a persecuted church, planting thirty plus home groups, and the launch of creative ministry opportunities in an extremely challenging environment.
Vinaya contributed to the development of Mission, Outreach, Youth, Communications, and Contemporary Worship. As Community Minister, Vinaya will share his ministry gifts with particular emphasis on Community and Outreach development in the Oshawa area. He is passionate about congregational development, stewardship, and social justice, also reconnecting with the un-churched & those de-churched, and most of all, helping individuals to become brand new disciples of Christ.
Vinaya enjoys the outdoor life, photography, music, and old English bikes. He also plays the guitar, flute, harmonica, and the drums. He fondly remembers his first debut on FEBA, Seychelles when he was twelve years old. Vinaya belongs to the fifth generation of loyal followers of Christ from Colonial India and speaks seven languages, including English.